The book that makes us relive the magic of the Metamorphosis podcast

more than 12 million plays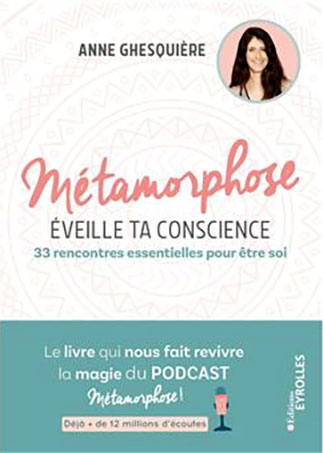 In her Métamorphose podcast , Anne Ghesquière gives us the opportunity to listen to many inspiring personalities every week. Each episode is nourished by a holistic vision of the harmony of heart, body and spirit. We find guests from all walks of life such as Franck Lopvet, Camille Sfez, Laurent Gounelle, Maud Ankaoua, Christophe André, Natacha Calestrémé, Fabrice Midal, Stéphane Allix, Lili Barbery-Coulon, and many others.
Accessible and deep, this feel good podcast is acclaimed by its listeners. Recorded in an intimate tone, it is conducive to the integration of new experiences and knowledge.
The extraordinary interviewees freely question human nature, the meaning of life, the links between humans, love, happiness, joy, God, the bridges between the visible and the invisible .
In this first book from the podcast, relive the magic of 33 authentic encounters thanks to extracts where you will find the quintessence of the guest's message, illuminating quotes and illustrations to integrate the concepts.
Universal subjects are explored here by our light transmitters, in particular the themes linked to self-knowledge, the search for meaning, spirituality and awareness, always with benevolence and transparency.
These interviewswill deliver you unique keys to continue your paths ofmetamorphosis